| | |
| --- | --- |
| Where: | Johnstone, Renfrewshire at Ludovic Square and Elderslie, Renfrewshire at the Wallace Monument on Main Street and formerly Lanark, South Lanarkshire at St Kentigern's Cemetery on Hyndford Road |
| When: | Saturday nearest 23rd August |
| Time: | 2pm at Johnstone, 3pm at Elderslie (formerly 10 am at Lanark) |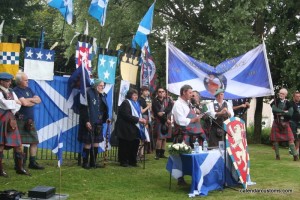 The great Scots patriot and freedom fighter Sir William Wallace was born at Elderslie, and every year the residents commemorate their local hero on or near the anniversary of his brutal execution by the English on 23rd August 1305. A parade makes its way from Ludovic Square in Johnstone to the Wallace monument in Elderslie two miles away, accompanied by much flag waving, tartan wearing and a pipe band. Expect a crowd of a few hundred come to pay their respects. Speeches are made by the monument and there's a suitably Caledonian-flavour concert during the evening. It's all organised by the Society of William Wallace and in the past there were also associated events at Lanark on the same day (see Wallace Society link).
Helpful Hints
Watch out for the ancient yew tree at Elderslie from Wallace's time (supposedly planted by the man himself though now sadly storm damaged, with young cloned yew trees planted next to it) and the birthplace remains,  situated near the impressive monument.
In 2018 it will be on Saturday 25th August at Elderslie (to be confirmed).
Click here for the Society website: http://www.thesocietyofwilliamwallace.com/index.html
and here for the Facebook page: https://www.facebook.com/pg/The-Society-Of-William-Wallace-323120935714/posts/?ref=page_internal
View larger map