| | |
| --- | --- |
| Where: | Countrywide |
| When: | Sunday nearest 30th November / December 1st |
| Time: | All day |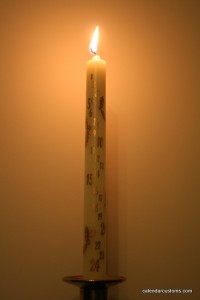 Advent is the period in the Christian church before Christmas, waiting for the birth of Jesus. Advent begins  on the Sunday nearest to 30th November (four Sundays before Christmas Day) and ends on Christmas Eve, so the main build-up of the Christmas festival takes place during advent. Many churches host Advent Processions in which an advent wreath is brought in, with a candle to be lit on each of the Sundays before Christmas Day. Advent Calendars, with 24 numbered windows to open in turn each day in the lead-up to Christmas, always start on December 1st to keep the dating system simple and  nowadays usually have a treat inside each window (more traditional ones have a relevant picture inside the window without the chocolates). Advent Candles also start on December 1st and the candle is lit for a short period each day, only being allowed to burn down as far as the mark for the following day so that the candle is burned in measured stages for the 24 days before Christmas.
Helpful Hints
In 2018 Advent Sunday will be December 2nd.
The advent wreath on the photo is the one at York Minster in 2016, the biggest such wreath in the World, I believe.