| | |
| --- | --- |
| Where: | Allendale Market Place |
| When: | 31st December |
| Time: | Midnight |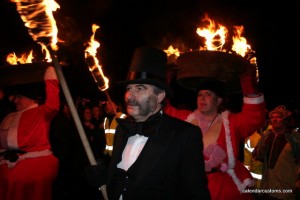 This is a fire custom welcoming in the New Year. A procession of Guizers in fancy dress parade through the village bearing aloft half-barrels filled with tar and flames which they then use to start a large bonfire on the stroke of midnight. The crowd join hands and sing Auld Lang Syne to the Brass Band then the locals go First Footing. It's quite a spectacle and there are often rumours that it will be suppressed for health & safety reasons but it hasn't happened yet – long may it last! The local brewery have even named a beer after the event.
Helpful Hints
Don't park anywhere near the Market Place (years ago I saw cars being walked over here) and allow plenty of time to walk in – the parked cars can stretch as far back as neighbouring Catton. It's chilly so wrap up well but don't wear anything too good as sparks may land on you -John was set on fire by a stray spark in the early minutes of 2011 but a kind lady put him out!. Expect a large crowd with a good atmosphere – the pubs will be open during the evening but not all serve food and you may need to be patient while queueing.
Click here for more info: http://www.visitnorthumberland.com/allendale
View larger map