| | |
| --- | --- |
| Where: | Alnwick Castle gates (Procession) then The Pastures |
| When: | Shrove Tuesday |
| Time: | 2pm |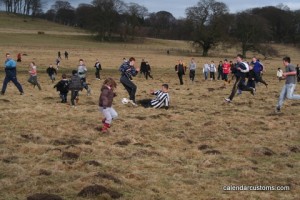 Alnwick Football is an ancient custom dating back hundreds of years. Crowds gather at the gates of Alnwick Castle, the home of the Duke of Northumberland, who throws the ball from the castle to start proceedings (tradition states that the original ball was a Scotsmans head but things have moved on since then). A procession follows the Duke's piper over the Lion Bridge to the venue of the game, a field called the Pastures which has the castle as backdrop. Play used to be in the town but the current venue was donated by the Duke to allow the game to continue; it had already moved from the streets  in the face of opposition from townsfolk in the nineteenth century. The pitch is about 2oo yards wide with foliage covered goals called hales at each end;  molehills and large puddles add to the challenge for the players. Teams are drawn from St Michaels and St Pauls parishes in the town and play takes up to about 2 hours depending on the score (the game is decided on the best of three hales which usually last half an hour each}
Helpful Hints
Plenty of parking, food & drink are available in the town. Wrap up well and wear waterproof footwear as the pitch is prone to waterlogging.
Don't worry if the local Tourist Information Centre can't tell you anything about the game – it will still go ahead as it has done for hundreds of years, just turn up! (we did)
In 2018 it will be held on Tuesday 13th February.
View larger map