| | |
| --- | --- |
| Where: | Annan, Dumfriesshire starting at the High Street |
| When: | 1st Saturday in July |
| Time: | Rideout 8 am, Procession 1 pm, Closing Ceremony 5.45 |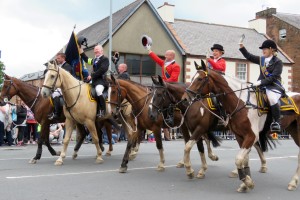 The equestrians of Annan have been boundary marking annually for over 60o years ever since the town was created a Royal Burgh. A cavalcade of over 100 riders, led by the Cornet and his Lass, check that the local landmarks are all intact and have not been altered since the previous check. A feature of the day is snuff taking and the "Hole in the Hedge" ceremony, both at the Landheads stop on the Ride ; a boy is shoved through the hedge here to commemorate the old tradition of a laddie searching for marauders in the past by climbing in through the window of the smithy which formerly stood on the site. As well as the Rideout, there are sports and competitions at the sports field, a parade of floats, music and other entertainments and  a spectacular closing ceremony with pipes and drums on the High Street.
Helpful Hints
In 2018 it will be on Saturday July 7th.
Click here for the event website : http://www.annan.org.uk/rom/index.html
View larger map