| | |
| --- | --- |
| Where: | Countrywide |
| When: | 21st October (and nearby weekends) |
| Time: | All day |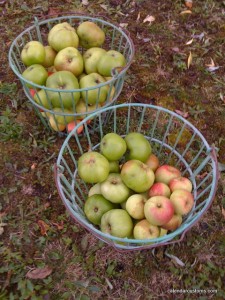 Apple Day is a festival celebrating the apple and orchards and was established during the 1990s, partly to encourage landowners to maintain their orchards and also to encourage the public to eat the produce from them. Fruit farms and farm shops as well as historic properties and community orchards all over the country organise apple and cider tastings and produce recipes made from the ever-popular fruit. Some of these events will be arranged on the nearst weekend if Apple Day falls midweek, and some will be on weekends a little earlier and later in the month to fit in with other events. Apple Day is particularly popular in areas where orchards have been well-established for a long time such as Somerset and Herefordshire. John made cider in 2010 and it was very tasty! Notable Apple Day events include the Big Apple in Herefordshire (see separate article) and Apple Day at Borough Market in Southwark.
Click here to find out more: https://www.commonground.org.uk/apple-day/ 
and https://ptes.org/campaigns/traditional-orchard-project/orchard-network/apple-day/