| | |
| --- | --- |
| Where: | Aston-on-Clun, Shropshire - village centre where the B4368 meets School Bank and Mill Street |
| When: | Last Sunday in May |
| Time: | From 1.30 at the tree |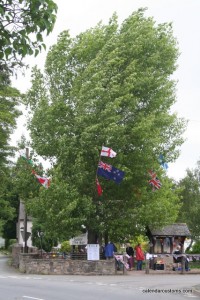 This is definitely not to be confused with the American holiday with the same name! Every year, the black poplar in the centre of Aston-on-Clun is decorated with flags which stay in position until the next festival the following year. The celebrations also commemorate the wedding of the local squire John Marston in 1786 – his wedding day coincided with Arbor Day and bride Mary Carter was so impressed that the family gave funds to perpetuate the event. This explains why the tree is sometimes called the Bride's Tree though there are also theories that the origins of the name are linked to St Brigit/ Bride the pagan fertility goddess. Whatever the origins, the pageant today always includes a bridal party in period costime and the singing of the Arbor Tree song. Expect morris dancing and childrens entertainers, and lots of photo opportunities. A ceilidh is also part of the festival – in 2015 it will be on the evening before Arbor Day (in the past it was usually on the Day itself).
Helpful Hints
In 2018 it takes place on Sunday May 27th. Merchandise is available in the village shop and at the tree – in 2017 the flags from the previous year were sold .
Click here to find out more:http://www.bishopscastle.co.uk/tourism/events/
View larger map