| | |
| --- | --- |
| Where: | Formerly Archaeolink Prehistory Park, Aberdeenshire |
| When: | Formerly Sunday nearest 31st October |
| Time: | Formerly All day from 11 am with torchlit procession to Wicker Man at 5.15 |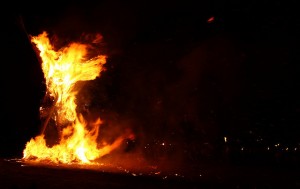 Every yearup to 2011 the Celtic heritage centre Archaeolink hosted a Samhain-themed Hallowe'en event which culminated in the burning of a Wicker Man after a day of themed activities such as spooky story telling, apple dooking ( I think that'll be the Scots equivalent of apple bobbing!), living history, fire shows and craft workshops. It was a family friendly event and everyone was welcome. The willow Wickerman was built in the summer and was huge! Samhain is the Celtic harvest festival which developed into the Hallowe'en we know today, with elements of a festival of the dead often featuring fire.
Helpful Hints
Archaeolink was a modern museum and visitor attraction focusing on Celtic history from the Stone Age up to Roman times – it was well worth a visit. There was ample on-site parking.
Archaeolink closed in 2011.
Click here for the website : http://www.archaeolink.co.uk/index.html
Photby Bruce McAdam.
View larger map