| | |
| --- | --- |
| Where: | Ashbourne, Derbyshire starting at Shaw Croft car park |
| When: | Shrove Tuesday and Ash Wednesday |
| Time: | 2pm both days |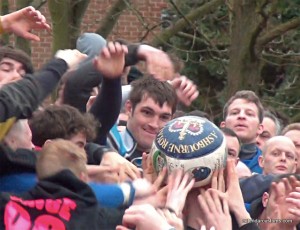 The Royal Shrovetide Football game takes place in Ashbourne every Shrove Tuesday and Ash Wednesday and is one of the best-known and longest established games in the festive football season, with records going back hundreds of years.  After the Procession and the singing of the special Shrovetide Song, the ball is thrown from the  platform at Shaw Croft and a fierce game follows which can last until 10pm, the scoring deadline. The Up'ards play the Down'ards and goals are scored by hitting the ball three times against the goal; the goals are purpose built stone plinths 3 miles apart with rough fields as well as streets to contend with and the scoring must take place from the river – one of the few rules! Expect huge crowds of a few thousand people and a big scrum known as the "hug".
Helpful Hints
The terrain is mixed and the game can be fast & furious – keep well back if you don't want to get swept up in it. A display of beautifully decorated historic balls will be on display at the Coach & Horses – well worth a visit. As the signs tell you : Park with Caution! It's difficult for a non-native to tell you a good place to park – I thought near the Leisure Centre might be safe but at one stage the "hug" was a bit too close for comfort…. The video features the early stages of  the Ash Wednesday game – the weather turned poor later on and we had to put the camera away.
In 2018 the games are played on Tuesday 13th February  & Wednesday 14th February.
Click here for the event website : http://www.shrovetide.net/
and: http://www.ashbourne-town.com
View larger map