| | |
| --- | --- |
| Where: | Ashburton, Devon at St Lawrence Chapel on St Lawrence Lane |
| When: | Saturday in mid to late July |
| Time: | 4pm- 7pm |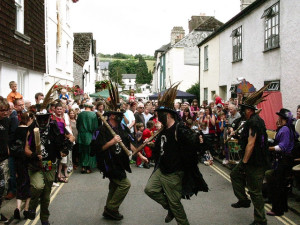 The Portreeve and other officials of Ashburton Court Leet are elected each November and one of the ardous tasks they must perform during their term of office is the annual bread-weighing and ale tasting ceremony in July. They visit the alehouses of the town in turn and give a sprig of evergreens to each landlord who supplies satisfactory produce, to display above the door. Loaves are also weighed and tested. Originally quality control measures such as these were made to ensure that consumers got a fair deal as miscreants who sold poor quality wares or gave short meausures could be punished. Today it's all more lighthearted and the officials form a robed  procession  through town from their HQ at the chapel , followed by a medieval fair with music & dancing.
Helpful Hints
In 2017 it was held on Saturday July 15th – 2018 date is yet to be announced.
Click here to find out more : http://www.ashburton.org/annual_events.htm
Photo by Simone.
View larger map