| | |
| --- | --- |
| Where: | Bacup - all over town |
| When: | Easter Saturday |
| Time: | From 9am at the Travellers Rest, Britannia until 8pm |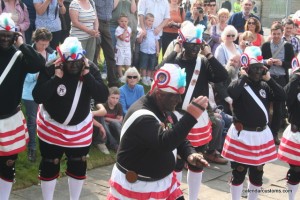 The Britannia Coco-Nut Dancers of Bacup are a uniquely dressed male folk- dance side who perform every Easter Saturday all around their town. They have blackened faces to conceal their identities and wear wooden discs at the knee (it is believed that their name comes from these discs being referred to as coconuts) as well as short white skirts, black breeches and jumpers, and rosette-decorated hats. They perform a series of  seven dances including five with hooped garlands and are accompanied by Stacksteads Silver Band. The starting point is always the Travellers Rest at Britannia at 9am; by late morning they are in central Bacup, stopping in town for lunch, then they work they way around town with a few pub-stops for refereshment and out by the Rawtenstall road,
ending at the Glen Top Service Station area around 8pm.
Helpful Hints
Easer Saturday is 31st March in 2018.
Click here for the event website : http://www.coconutters.co.uk/
View larger map