| | |
| --- | --- |
| Where: | Formerly at Bainbridge, North Yorkshire |
| When: | Formerly daily from 28th September to Shrove Tuesday |
| Time: | Formerly at 10pm though many sources state 9pm |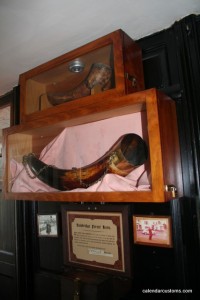 The Metcalf family have been the hereditary hornblowers in Bainbridge for generations and the tradition used to take place each night between 28th September (Michaelmas Eve) until Shrove Tuesday. It is believed that the origin of the custom was a curfew to guide travellers to the village from the hazardous Forest of Wensydale. For the moment, the custom has died out – perhaps it's ripe for a revival if a new generation of Metcalfs can be tempted to take it on.
Helpful Hints
The horn is kept at the village pub, the Rose & Crown on the green and can be seen at Reception.
Click here for more info: http://www.wensleydale.org/villages/bainbridge.html
View larger map