| | |
| --- | --- |
| Where: | Bampton, Oxfordshire - starting at Bushey Row/New Road junction |
| When: | Spring Bank Holiday Monday (end of May) |
| Time: | From 8.30am |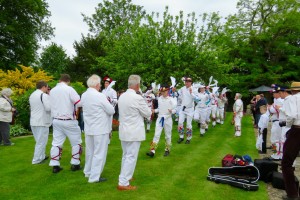 Bampton Morris, Traditional Bampton Morris and Bampton Traditional Morris  are all traditional morris sides performing in the Cotswold style and they have a history dating back perhaps 600 years.  They used to perform at Whitsuntide but have moved to the more convenient  Spring Bank Holiday for the annual day of dancing in their home village. Dressed in white with bells on legs and handkerchiefs in hand, the bowler hatted dancers are accompanied by a Fool with a pigs bladder and a Cake Bearer who carries a sword with a fruit cake stuck on it; eating the cake is considered lucky but be careful as it is a fertility cake! They start the day at 8.30 by the junction of  Bushey Row and New Road and continue dancing throughout the day all around town, soemtimes joined by visiting Morris teams in the evening. Also look out for the May Garlands made by the village children which are shown and judged at 11am in the Market Square.
Helpful Hints
The Horseshoe Inn on Bridge Street at Bampton is the "Home" of the dancers and they provide programmes for the day with detailed times and locations. In 2015 a Morris map was available at the Village Hall with a plan of locations and times of performances.
In 2018 Spring Bank Holiday is Monday May 28th .
Click here for the event website : http://www.bamptonmorris.co.uk/
View larger map