| | |
| --- | --- |
| Where: | Barlaston Green, Staffordshire - Village Walk starting at Barlaston Green Carpark |
| When: | 31st December |
| Time: | From 9.30 to midnight |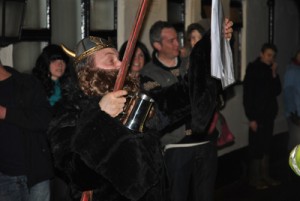 Barlaston Wassail is a unique recent custom, and one which celebrates our heritage; it was founded in 2004 by Tim Cockin as a charity fundraiser and also because many local settlements have Anglo Saxon origins. Now there's a mummers' play featuring Father of the Village, Beornwulf, with St Chad and King Wulfhere, performed on a couple of dates prior to the Wassail as well as on the night itself. 
The night itself begins with the walk starting at Barlaston Green Carpark at 

9 pm

 for  9.30. The walkers carry twelve Saxon-themed banners, one for each month of the year. Verses to the Anglo Saxons depicted are read at intervals. When the walkers reach the Upper House (an hour later), there's the first act is performed. Then – at the Duke of York, Longton Rd – the 2nd act, the raffle and a fire finale. Then the event becomes a sort of procession to the tree on the village Green for 

midnight

. Everybody gathers round it to dance and sing Auld Lang Syne.  
Helpful Hints
The event returned after a year off on 

December 31 2017

. There were also performances of the play on 

Sat. Dec. 23rd

 at the top of the High Street, Stone, at 
12 noon

, ST15 8AB. At 

4.30pm, Sat. 30th Dec

, the village hall, Barlaston, ST12 9AA (£1 entrance). (And of course on New Year's Eve – 

10.30pm

, the Upper House, Barlaston, ST12 9AE (the 1st act); 

11.30pm

, outside the Duke of York, Longton Rd, Barlaston, ST12 9AA (the 2nd act)).
From 2017 the walk returned to the countryside, as pre-2013, and was approx. 2 miles. Bring appropriate boots/ torch etc as it can be muddy underfoot. Late-comers and non-walkers may wait along Upper House drive. There is no entrance fee but raffle tickets will be on sale for fundraising (12 prizes, plus the winner's name 'inscribed' on our collection of 12 Famous themed Tankards). As well as the Duke of York, there is another inn, Plume of Feathers, 1m away, for after-

midnight

 drinking. 
Click here for the event Facebook page: https://www.facebook.com/BarlastonWassail?fref=ts
4 photos by Tim Cockin.
View larger map