| | |
| --- | --- |
| Where: | Barlaston Green, Staffordshire - Village Walk starting at Orchard Place & Childrens Wassail at the Village Hall(see Helpful Hints below for full schedule) |
| When: | 31st December (NOT 2016!) |
| Time: | Childrens Wassail 4.30 for approx 1/2 an hour, Wassail From 9.30 to midnight |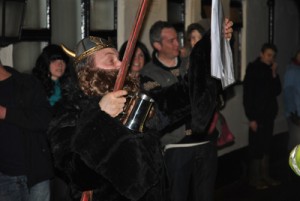 Barlaston Wassail is a unique recent custom, and one which celebrates our heritage; it was founded in 2004 by Tim Cockin as a charity fundraiser and also because many local settlements have Anglo Saxon origins. From 2014 there are 2 events starting with the Childrens Wassail in the village hall including the crowning of the Wassail Queen and the resurrection of the Father of the Village, Beornwulf. The second event is the walk which begins at Orchard Place at Barlaston at 9.30 , culminating in a torchlit procession followed by dancing around the tree outside the Duke of York Inn, where the last mummer's play is performed around 11.15. Twelve Saxon-themed banners, one for each month of the year, are carried in the procession and placed at the pub.Anglo Saxon verses are declaimed and of course Auld Lang Syne is sung. There might even be a chariot or two or Lady Godiva!
Helpful Hints
The event is taking a break in 2016 and will return on December 31 2017!
The route has been altered from 2013 to make it more accesible to all – the more ardous route over the Downs has been changed and now the Walk is all around the village instead beginning at Orchard Place, to The Green & Upper House Hotel by approx. 10pm,  11.15 Parade outside Duke of York . There is no entrance fee but raffle tickets will be on sale for fundraising (6 prizes on offer including the Famous Tankard!) & refreshments will be available.
The Children's Wassail is also free and there are also free tickets to a raffle with children's prizes.
Click here for the event Facebook page: https://www.facebook.com/BarlastonWassail?fref=ts
All photos by Tim Cockin.
View larger map