| | |
| --- | --- |
| Where: | Sutton Cheney Church, Leicestershire & Bosworth Battlefield Heritage Visitor Centre (CV13 0AD) |
| When: | Sunday near 22nd August |
| Time: | 12.30 at St James' Church, from 10 am at Visitor Centre |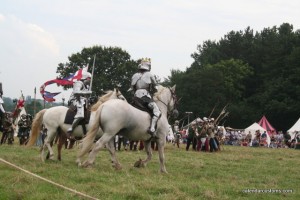 The Battle of Bosworth took place on August 22nd 1485. King Richard III was the last English king to fight in battle and was slain here with victory won by Henry VII, the first Tudor king. The Richard III Society hold an annual service at St James' Church, Sutton Cheney  on the nearest Sunday to the anniversary, to commemorate the battle and all who died in it. The Richard III Society promotes research in to the life and times of Richard III and seeks to secure a re-assesment of his role in history (he got a bad press – history is written by the winners!). Wreaths are laid and King Richard's Prayer is said. The nearby Battlefield Centre has exhibitions  and re-enactments as well as organised Battlefield Walks over the whole weekend. The living history encampment is very large and there are interesting items on sale at numerous stalls on site; food and drink are readily available and everything has a medieval theme. The highlights of the event are the jousting tournament and the battle re-enactment which take place during the afternoon – there's plenty to keep all ages busy all day.
Helpful Hints
The Visitor Centre has ample parking  and has a fascinating display on the battle and its place in history as well as a reconstructed medieval village.
I'm a member of Richard III Society myself so may be considered slightly biased – but however loudly you cheer for Richard he still doesn't win!
In 2017 the service took place on Sunday August 20th and the Battle re-enactment on Saturday 19th and Sunday 20th August. 2018 dates are yet to be confirmed.
A brief flower and wreath-laying ceremony takes place at the Visitor Centre on the actual anniversary of the battle, 22nd August, at 11 am at the Sundial.
Click here to find out more : http://www.richardiii.net/
and for the event website click here : http://www.bosworthbattlefield.com/
View larger map