| | |
| --- | --- |
| Where: | Radway, Warwickshire- starting at the Monument on the B4086 and at Kineton Sports & Social Club at Little Kineton |
| When: | Weekend nearest 23rd October |
| Time: | 10.30am onwards with entertainments from 1pm and battle at 3.30 |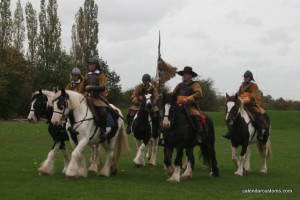 The Battle of Edgehill was the first major engagement of the English Civil War and was fought on 23rd October 1642 between the forces of King Charles I and Parliament; though thousands of men were killed, the battle was indecisive and the war continued for several years. Every year on the weekend nearest the anniversery, the Sealed Knot (the oldest and biggest re-enactment group in the UK) march in full costume and armour to the battlefield for a service and wreath-laying ceremony on the Sunday to remember those who gave their lives in the conflict. A battle re-enactment takes place on both days of the weekend during the afternoon. There are living history displays, skirmishes, demonstrations of weapons, cavalry and of course the recreation of the Battle of Edgehill itself.
Helpful Hints
This event deserves to be much better known – it's well organised, family friendly and excellent value.When we went on the Sunday in 2013 it was very easy to get a good view of all the action and to chat with the participants – the Surgeon was a highlight for us!
All are welcome at the brief wreath-laying ceremony at the  battle monument on the B4086 at the bottom of the hill but please note that the Sealed Knot memorial service to the battle is on restricted access MOD land and is a members only event. The Castle Inn on top of Edgehill has a display on the battle, as well as food & drink.
Admission to the re-enactment  in 2013 was £2 plus £1 for parking.
In 2018 it will be on Saturday 20th & Sunday 21st October (to be confirmed). In 2017 it was held on Saturday 23rd and Sunday 24th September (a month earlier than usual) at a new venue, the Home Farm at Compton Verney. As 2017 was the 375th anniversary of the Battle, it was a bigger event than normal so I'll be checking for 2018 if it will return to the usual venue and time of year.
For the venue website click here: http://www.kinetonssc.org.uk  and
Facebook page click here : https://www.facebook.com/Kineton.Sports.Social.Club
For the well illustrated Battle website click here : http://www.battleofedgehill.org
For the Sealed Knot website click here : http://www.thesealedknot.org.uk/
View larger map