| | |
| --- | --- |
| Where: | Falkirk, at the Memorial in Greenbank Road |
| When: | Saturday near January 17th |
| Time: | 1.30pm |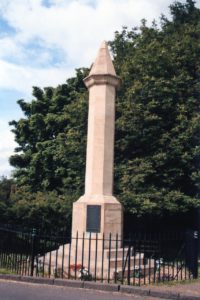 The Second Battle of Falkirk was fought on 17th January 1746 between the forces of the Jacobites under Bonnie Prince Charlie and the Government under General Hawley. Though the battle was large it is comparatively little-known and was a victory for the Jacobites, who won the day in difficult weather conditions with poor visibility. Today the event is commemorated on the nearest Saturday to the anniversary with a wreath-laying ceremony at the obelisk which marks the battlefield, and with guided tours of the battlefield by the 1745 Association.
Helpful Hints
In 2017 it was on Saturday January 21st- 2018 date is yet to be confirmed but will probably be 20th. Don't get your battlefields mixed up and turn up at the wrong monument – there have been 2 battles of Falkirk and the First Battle of Falkirk was at a different site.
Click here for the Battles of Falkirk Commemoration Society Facebook page: https://www.facebook.com/Battles-of-Falkirk-Commemoration-Society-1482923701940673/
Click here for the 1745 Association: http://www.1745association.org.uk
View larger map