| | |
| --- | --- |
| Where: | Sandal, Wakefield, Yorkshire - at the Duke of York's statue in Manygates Lane and at the Bridge Chantry Chapel on Calder Vale Road |
| When: | Near 30th December |
| Time: | 11 am in 2017 (often 1.45pm) |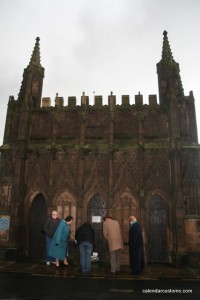 In 1460, Duke Richard of York was killed during a skirmish outside Sandal Castle near Wakefield on 30th December. Part of the ongoing family feud now known to us as the Wars of the Roses, his death was a serious setback to the Yorkist cause, though his son went on to triumph over the opposing Lancastrian forces to become King Edward IV just a few months later. Nobody really knows why Richard and his small force left the safety of the castle – perhaps they were searching for supplies or were lured out by the opposition, but the result was fatal and the heads of Richard and his allies went on display at Micklegate Bar in York as traitors. Each year, since 2005, the battle has been commemorated by an informal wreath  laying ceremony (including Yorkist white roses, naturally) and a minutes silence by the statue of Richard of York near Sandal Castle. Afterwards the group make their way to the medieval Bridge Chantry Chapel to place more flowers, this time in memory of Richard of York's second son, Edmund, who was also slain at Wakefield aged only 17.
Helpful Hints
In 2017 it was on Saturday 30th December at 11 am and included a march of Wars of the Roses re-enactors. 2018 date is yet to be announced.
You can visist the ruins of Sandal Castle which are in a landscaped park on Manygates Lane, south of the statue.
It's organised by Richard III Society Yorkshire Branch (Richard III was Richard of York's youngest son).
Click here for the Society website: http://www.richardiii.net/
and here for Yorkshire Branch : http://www.richardiiiyorkshire.org
View larger map