| | |
| --- | --- |
| Where: | Bawburgh, Norfolk - Village Green , Church & Well |
| When: | Sunday near 30th May |
| Time: | 2.30 (will be checking this for 2017) |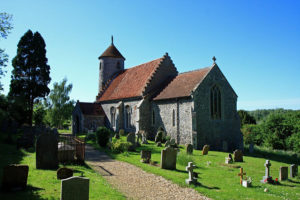 St Walstan was born into the East Anglian royal family in 975 but despite his exalted status he chose a life of labour and toil on the local farms; a legend tells of how on his death, two white oxen drew his cortege to the spot where the church and shrine now stand. Walstan thus became patron saint of farmers and agricultural workers and his feast day falls on 30th May; miracles are said to have taken place after visits to his shrine and it was a popular destination for pilgrims in medieval times . Nowadays a special service is held on a Sunday near this date.Expect a procession, which begins on the Village Green, followed by a service in the Church and a further procession to the Well in the orchard nearby, then tasty tea and cakes.
Helpful Hints
The event can fall in late May or early June depending on how the days of the week fall that year. In 2016 the service took place on Sunday 29th May – 2017 date is yet to be confirmed but will probably be 28th May.
I'll be checking the timings nearer to the date, as in 2016 there were special extra events to mark Walstan's 1000th anniversary and future times may need to be adjusted.
Click here for the church website: http://www.bawburghvillage.co.uk/Church/Church%20Home.htm
and here for the village: http://www.bawburghvillage.co.uk/index1.htm
For a first-hand account of the 2016 celebrations click here : https://traditionalcustomsandceremonies.wordpress.com/2016/05/31/custom-survived-st-walstans-day-pilgrimage-bawburgh-norfolk/
Many thanks to Ross Parish for drawing this custom to my attention!
Photo by David
View larger map