| | |
| --- | --- |
| Where: | Munlochy, Easter Ross, about half a mile west of the village alongside the A832 |
| When: | 30th April |
| Time: | All day |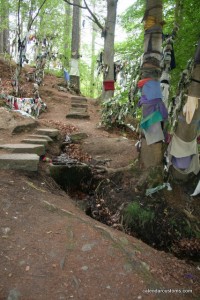 Beltane is the night preceding May Day so is also known as May Eve and was celebrated especially in Scotland and Ireland with rituals dating back many hundreds of years. It was a widespread practice to visit a local holy well and make offerings to cure illnesses or to ensure prosperity in the months to come – as the cloth rots away, so diseases fade too. At Munlochy this tradition is still current and visitors at any time of year can see the strips of cloth given as offerings at the famous Clootie Well – but the most potent time to visit is at Beltane.
Helpful Hints
Ample parking is available 100 yards away with a signposted path to the well.
Click here to find out more : http://www.undiscoveredscotland.co.uk/munlochy/clootiewell/index.html
View larger map