| | |
| --- | --- |
| Where: | Berwick upon Tweed, Northumberland outside the Barracks on The Parade |
| When: | A Wednesday in July |
| Time: | 8pm sharp |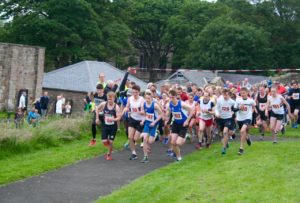 Every July the local council and Tweed Striders organise a race around the town walls whilst the curfew bell rings for thirteen minutes. The bell has rung at 8pm every day allegedly since the reign of William the Conqueror but the race only happens once a year and the aim is for the competitors to complete their circuit of the walls, which is just over a mile, whilst the bell is still ringing. The race was started in the mid 1990s and the current record is 6 minutes 10 seconds; until recently it was organised by Berwick Hariers but is now managed by Tweed Striders.
Helpful Hints
Entries are taken on the day and winners receive prizes in Junior and Senior categories. Registration for entries starts at 6.30 and the field is limited to 150 runners. It's free to watch! There's a Curfew Fun Run at 7.30 for less serious and younger athletes.
It can be hard to hear the Curfew ringing with all the excitement and the crowd encouraging the athletes, but if you listen carefully you should be able to hear it – and the runners comfortably make the circuit in time.
Plenty of parking is available next to the Barracks.
In 2017 it took place on Wednesday 5th July – 2018 date is yet to be announced.
Click here for the Tweed Striders' website: http://www.tweedstriders.org/
and here for their Facebook pages: https://www.facebook.com/TweedStriders?ref=ts&fref=ts and https://www.facebook.com/events/448425655292655/?fref=ts
and here for the Council : http://www.berwick-tc.gov.uk
View larger map