| | |
| --- | --- |
| Where: | Berwick upon Tweed, Northumberland - starting at Barracks Square |
| When: | Saturday before May Day Bank Holiday Monday |
| Time: | From 9.30 am. |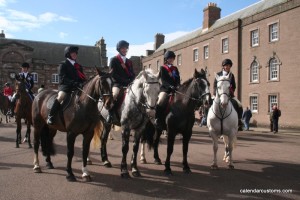 Most of the annual boundary riding customs in the borderlands take place in Scotland and in June or July; at Berwick they like to do things a bit differently and hold their Riding the Bounds every May. The custom dates back to 1438 when local officials were deciding where Scotland ended and England began; since then the riders have patrolled the boundary to make sure it is faithfully maintained. There are few boundary riding customs in England (though others suvive at Richmond and Lichfield) but Berwick belonged to Scotland on and off for centuries and shares a common heritage with the other lowland towns which maintain their own Ridings. It's now organised by the Berwick Riders Association. Expect up to 100 riders led by a Piper and a flag-bearing Marshall. The procession starts at Barracks Square and makes its way to the Guildhall before the  15 mile Rideout starts in earnest – they even stop the traffic on the A1 to  let the riders through!
Helpful Hints
This event now takes place (from 2017) on the Saturday of May Day Bank Holiday weekend (in the past it was held on 1st May regardless of which day of the week it fell upon). In 2018 it will be on Saturday 5th May.
Riders wishing to take part get a discount on the cap for the event if they apply early.See below under Comments for full schedule.
Click here for the event website: http://berwickbounds.webs.com/
For more info click here : http://www.visitberwick.com/whats-on/
Click here to find the Berwick Riders Association Facebook page : http://www.facebook.com/BRA.Ltd?fref=ts
View larger map