| | |
| --- | --- |
| Where: | Biddenden, Kent at the Old Workhouse on the Sissinghurst Road |
| When: | Easter Monday |
| Time: | 10am. |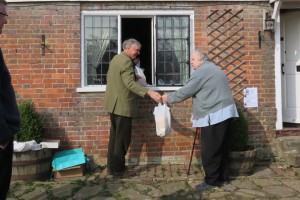 The Eastertide charitable custom of the Biddenden Dole dates back centuries. Bread and cheese are distributed as well as specially made hard biscuits in the shape of the Chulkhurst twins – these are reputedly better kept as souvenirs than eaten! The legend behind the custom is that Eliza and Mary Chulkhurst were Eleventh Century conjoined twins who died within hours of each other; they left lands to the church to support a charitable dole which continues today. The bread & cheese goes together with a gift of tea to the elderly but all who attend the ceremony are given the opportunity to purchase a biscuit (in 2015 they cost £1).
Helpful Hints
Look out for the village sign on the green, which depicts the twins.The Old Workhouse is situated to the south side of the A262, just west of the turnoff into the Chulkhurst estate on the north (opposite) side of the A262.
In 2018 Easter Monday falls upon 2nd April.
Click here for the village website : http://www.biddendenkent.co.uk/
View larger map