| | |
| --- | --- |
| Where: | London, on London Bridge |
| When: | Sunday after 6th January |
| Time: | 12.30pm |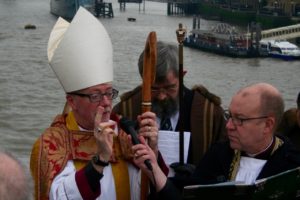 The parishes of Southwark Cathedral (on the South bank ) and St Magnus the Martyr (on the North bank) meet in the middle of London Bridge, and each January the clergy of both churches process to this point and perform a short religious service during which a wooden cross is cast into the river. The custom has only been established during the twenty-first century but harks back to the ancient ceremony in the Orthodox church of throwing a cross into the waters on the Sunday after Epiphany.
Helpful Hints
In 2018 it will be on Sunday January 7th.
Clcik here for the Southwark Cathedral website & Calendar : http://cathedral.southwark.anglican.org/
Click here for the St Magnus the Martyr website : http://www.stmagnusmartyr.org.uk/
View larger map