| | |
| --- | --- |
| Where: | Countrywide |
| When: | 26th December |
| Time: | All day |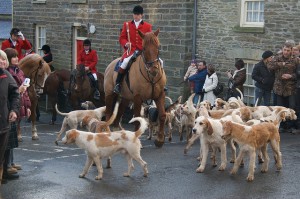 Boxing Day is the 26th December, the day after Christmas Day, and is also the feast day of St Stephen (hence the line in Good King Wenceslas "…on the feast of Stephen"). The name comes from the practice of giving presents (Christmas Boxes) on this day, a custom which has moved to Christmas Day itself. It was a traditional day for hunting, and many foxhunting meets still take place  – our local hunt the Tynedale still meets in Corbridge Market Place every year at 11. There are too many meets all over the UK to list them individually so check links below and local press to find one near you. It is also a day upon which many mumming groups and morris dancers perform throughout the country – again follow links to find a side near you – there will be one! A few notable events are listed separately in the calendar but there are many more.  For many other folks it's a chance to recover from the excesses of the previous day….or go for a swim (see Boxing Day Dip article). Boxing Day is a public holiday in England and Wales.
To find your local mummers click here : http://www.mastermummers.org/
Click here to find your local morris side : http://www.themorrisring.org/
and   http://www.morrisfed.org.uk/
Click here to find your local hunt : http://www.horse-directory.co.uk/huntlinks.htm
Photo by Robert Nunn.