| | |
| --- | --- |
| Where: | The Solent on Brambles Sandbank, halfway between Southampton and Cowes |
| When: | Late August / September |
| Time: | Dependent on the tide |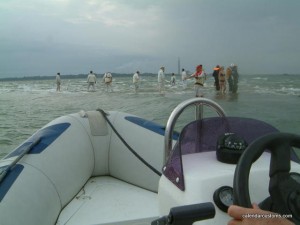 This is the only cricket match to appear on this list! Only once each year, Brambles Bank emerges from the briny for around half an hour when the tide drops to its lowest point – it's about 200 metres long so is just about big enough for the game. Local yacht clubs from either side of the Solent use this opportunity to stage their cricket match, arriving in a flotilla before dawn; the winner is decided beforehand which must make this one of the oddest competitions in the calendar, and in a gentlemanly fashion the teams take wins in turn. It all started in the 1950s but will have to cease if the bank, which slowly moves westward, disappears forever.
Helpful Hints
The participating teams are from the Royal Southern Yacht Club, Hamble and Island Sailing Club, Cowes. In 2016 it was on Sunday August 21st in the morning and in 2017 it was much earlier in the season than usual on Sunday June 25th at 5.30 pm. 2018 date is yet to be announced.
Spectators can watch from boats!
Click here for the sailing club websites : http://www.islandsc.org.uk/news.aspx and http://www.royal-southern.co.uk/Membership/The-Club-History
Photo by Laurence Dillamore.
View larger map