| | |
| --- | --- |
| Where: | Bridgwater, Somerset - town centre, High Street area |
| When: | Saturday nearest 5th November |
| Time: | 7pm |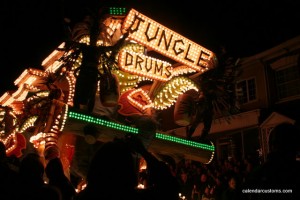 Bridgwater Guy Fawkes Carnival is the largest illuminated carnival in Europe. It's been well established for many years, with its origins of course in the festivities after the exposure of the Gunowder Plot in 1605; todays events follow the precedents set by Victorian carnival entusiasts. A procession of over 100 spectacular floats is led by the Guy Fawkes cart -judges award prizes for the best and there is fierce competition. There are several categories – some in the form of static tableaux (you can only tell the characters are alive when they blink!) whereas others are all singing and all dancing. Costumed individuals and groups on foot intersperse the carts. After the procession hundreds of squibs are let off in the High Street at around 10.45; Bridgwater Squibs are an integral part of the event and they are giant fireworks held aloft on poles. Literally thousands of people will line the route, even when it's raining! The date of the carnival moved to Saturdays from 2012, initially for a trial period of 3 years, so that even more people will be able to attend from a distance.
Helpful Hints
Money collected on the night is shared between several charities, and merchandise is available to purchase at the Town Hall (open until 5pm).
The procession is well over 2 miles long and takes a couple of hours to pass by – experienced carnival watchers take folding chairs to sit on! Parking can be a bit tricky so allow plenty of time.
It used to be held on the Friday nearest November 5th ; however, from 2012 it moved to Saturdays instead and will be on Saturday November 3rd in 2018.
Click here for the event website : http://www.bridgwatercarnival.org.uk/index.php
View larger map