| | |
| --- | --- |
| Where: | Brightlingsea, Essex at the Hard |
| When: | Sunday nearest Ascension Day |
| Time: | Early afternoon |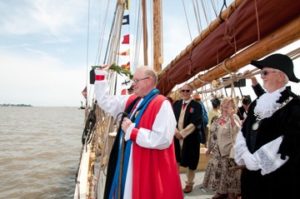 Brightlingsea is the setting for a traditional Blessing at Rogationtide, as part of the annual Brightlingsea Regatta and Boat Show celebrations. Dignitaries of the Cinque Ports and civic officials in their regalia attend  a brief religious service which takes place on board ship at the Hard; this is relayed by loudspeakers from the local yacht club so that everyone can hear it. Following the Blessing, the dignitaries take to the water to lead the Smack Flotilla procession along the Brightlingsea Creek, past the Hard to West Ness for Reclaiming the Waters which asserts the rights of the people of Brightlingsea to use the waters in their Liberty, in a traditional boundary-marking custom akin to Beating the Bounds on land. The origins of this lie in a historic dispute of the local oystermen with those from Colchester over the position of West Ness and while this is no longer an issue today, the colourful custom is kept alive as part of the town's maritime heritage. Whilst an ongoing event, the Blessing  doesn't always happen every year so check first before setting off – the Regatta DOES happen every year.
Helpful Hints
All are welcome. The Flotilla route can be followed on foot to Bateman's Tower at West Ness- you don't need to be aboard to take part.
The Regatta and Boat Show takes place over the Saturday and Sunday with a host of other maritime themed activities (see their website link below for full details).
The date varies from year-to-year because Ascension Day is linked to the moveable feast of Easter and the time varies also because of the tides. In 2018 the Blessing will take place on Sunday May 20th in the early afternoon.
Click here for the website of the Cinque Port Liberty of Brightlingsea: http://www.cinqueportliberty.co.uk/
and here for the Regatta and Boat Show : http://www.brightlingseaboatshow.com/
and here for the Regatta Facebook page : https://www.facebook.com/events/282456572173039/
Twitter for the event (with lots of photos) may be found at @BlessWatersBsea
Many thanks to Roger Tabor for the photos.
View larger map