| | |
| --- | --- |
| Where: | Brixham, Devon at the Old Fish Market |
| When: | Sunday in late May |
| Time: | 8pm |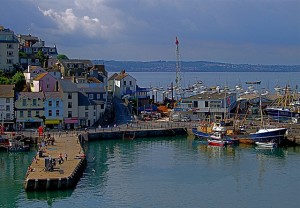 Blessing the Sea ceremonies used to be relatively common in coastal areas and one of the few survivors is the Blessing of the Fleet at Brixham, which now forms part of the town's BrixFest held in late May. A religious service is held with appropriately themed hymns and support from local musicians and choirs. Funds raised are given to the Royal National Mission to Deep Sea Fishermen.
Helpful Hints
There are plenty of other events going on for the Festival (see website for details)
In 2017 it was on Sunday May 28th – the festival ran from 27th to 31st May. 2018 dates are yet to be announced.
Click here for the event website : http://www.brixfest.com
 and for more click here: http://www.englishriviera.co.uk/whats-on/brixfest-2013-p159003
Photo by judepics.
View larger map