| | |
| --- | --- |
| Where: | Burghead, Grampian - town centre starting at Brander Street & fire at Doorie Hill (at the west end of Grant Street) |
| When: | 11th January (unless this is a Sunday in which case it takes pace on Saturday 10th instead) |
| Time: | 6pm |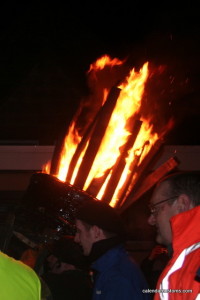 Burning the Clavie is an ancient fire custom which is held every 11th January ("Old" New Years Eve if you use the calendar as it was before adjustment to the Gregorian calendar in the Eighteenth Century!). The Clavie is a peat and wood filled herring barrel on a pole, carried through the village burning spectacularly in a luck-bringing tradition which used to be more widespread but now only survives at Burghead. The procession is led by the Clavie King and the Clavie is paraded through the streets, only stopping to give smouldering pieces from it to local inhabitants for luck in the forthcoming year, and to re-fuel. The ceremony culminates with a bonfire on the summit of Doorie Hill where the Clavie burns in a specially constructed stand – even though the crowd here is large, everyone has a good view because of the lie of the land. After the Clavie falls in a blaze of glory, pieces are collected by the Clavie team who distribute them among the crowd.
Helpful Hints
There seems to be a great deal of doubt as to whether or not the event moves to the Saturday night when 11th falls on a Sunday, which it did in 2015 (and yes it did move to Saturday 10th!) but this is not due to happen again for several years.
All are welcome to watch but only certain local families are invited to build and carry the Clavie. It's considered lucky to claim a piece of the burned Clavie and pieces are shared amongst the throng at the end. If you want to take a piece home it's advisable to have a pair of thick old gloves or an old cloth to enable you to carry it as the pieces take a long time to cool down. In 2013 the Clavie had fallen by 7.30.
If you're visiting by car, there are handy spaces next to the harbour if you arrive early enough. Food & drink are readily available in the town.
View larger map