| | |
| --- | --- |
| Where: | Bury, Lancs and environs starting at Ramsbottom Market on the Saturday, Victoria Hall at Walshaw on Sunday and the Dungeon, Turton Road,Tottington on Good Friday |
| When: | Both days of Palm Sunday weekend and Good Friday |
| Time: | From 10.30 on Saturday, Noon on Sunday and Friday 1pm to 4.30pm approx. |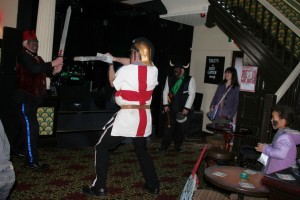 The Bury Pace Eggers are a team of mummers who perform in the Easter season every year around their home town. Pace Egging Plays are traditional mumming plays with their own unique character and are performed during Eastertide, mainly in the north-western corner of England. They are typically brief hero-combat plays with fight scenes and the revival of one protagonist by a doctor but also have some unique songs and characters like Tosspot who don't appear anywhere else. The name comes from the players or their attendants in past years begging for eggs for the Easter season.The Bury team follow a route based around local hostelries performing their traditional Pace Egg play with all the associated characters including St George, the Doctor, Beelzebub and the Fool, and Big Head who performs a clog dance. Spoiler alert: St George fights Slasher the Turkish Knight, who is slain and miraculously revived by the Doctor and a good time is had by all!
Helpful Hints
Check the Pace Eggers' own website for a complete schedule with all timings and locations (see link below).
In 2018 they'll be performing on Saturday 24th & Sunday 25th March and Good Friday on 30th March.
Click here for the event website : http://www.burypaceeggers.co.uk
View larger map