| | |
| --- | --- |
| Where: | Butser Ancient Farm , 4 miles south of Petersfield, Hampshire |
| When: | Saturday nearest May Eve (May Eve is the night of 30th April into morning of 1st May) |
| Time: | 4.30pm onwards - burning at sundown |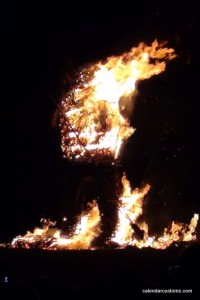 The ancient festival of Beltane is revived and celebrated annually at the reconstructed Iron-Age village of Butser in Hampshire (they spell it Beltain here). A huge wicker man is constructed and he is burned at sunset following the  Celtic tradition – luckily the organisers are peace-loving folk so no people are sacrificed inside! Beltane is associated with  Bel, god of light, fire and the sun and is a fertility rite linked to the turning of the year to ensure a fruitful harvest.
Helpful Hints
You probably need to buy tickets in advance for this event -£13 each for adults in 2012 – though entry at the gate is available if numbers allow. Food & drink available onsite. It's an uphill walk back to the carpark – you'll need appropriate footwear and a torch is useful.
In 2018 it will be on Saturday 5th May.
Click here for the event website : http://www.butserancientfarm.co.uk/
View larger map