| | |
| --- | --- |
| Where: | London at St Bartholomew the Great in Smithfield |
| When: | Good Friday |
| Time: | 11.30 |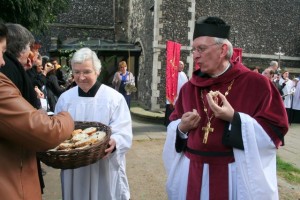 In the past this was a charity dole of money and food given only to poor widows of the parish of St Bartholomew the Great at Smithfield in London, but nowadays hot cross buns are distributed to anyone who attends the outdoor service on Good Friday. The origins of the custom are lost, but Joshua Butterworth gave funds, and his name, to the event in the late nineteenth century to perpetuate it. Buttered hot cross buns are handed out in the churchyard during the service, the Widow's Sixpence is claimed by any poor widows in attendance (20p in 2014!), seasonal hymns are sung and it lasts about half-an-hour.
Helpful Hints
There is a collection for local charities during the service.
People used to believe that Hot Cross Buns baked on Good Friday would not decay even if kept for long periods (presumably because they were holy). However, when I visited I  just ate mine…
In 2018 Good Friday is on March 30th.
Click here for the church website: http://www.greatstbarts.com/
View larger map