| | |
| --- | --- |
| Where: | Buxton, Derbyshire at well locations around town; Blessing the Wells at St Annes Church on Bath Road, Crowning at St John's Church, Carnival starting at Palace Road |
| When: | Early July for a week with Blessing the Wells & Crowning on 1st Sunday, Carnival on 2nd Saturday of Festival |
| Time: | Blessing the Wells at 1.45, Crowning 3pm (both on Sunday) & Carnival from 2pm (Saturday following) |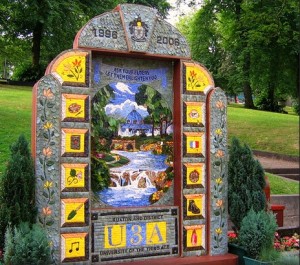 Well dressing is an ancient Christian custom with its origins lost in the mists of time; what is certain is that it is a thanksgiving for a supply of clean water and that it is most prevalent in the Peak District and surrounding area. The drssings themselves are beautifully crafted pictures made from flower petals and other natural materials pressed into clay on frames; they take many hours to make and in some places visitors can watch them being crafted. When the Dressings are fininshed they are set up at wells and springs to decorate them and in some cases there will be events through the short display season. There are too many well dressing customs to list all of them on this website so I selected a few of the best known and longest established to illustrate what happens each year.In Buxton the Festival has been running for over 150 years and includes a fair, a Carnival procession and a Well Dressing Queen. The wells are dressed over a 3-day period leading up to Blessing the Wells on the first weekend of the festival; visitors may watch the construction of the dressings at St John's Church from 9am on the Thursday, Friday and Saturday.The Carnival Procession takes place on the Saturday of the  second weekend of the festival and winds around the town (see website link for full route details) before futher entertainments in the Pavilion Gardens. The dressings stay in place until the Monday after the Carnival Procession.
Helpful Hints
In 2017 the Festival ran from Sunday July 2nd to Monday July 10th with the Blessing of the Wells and Crowning on Sunday 2nd starting at St Annes Church and the Carnival Procession on Saturday 8th -2018 dates are yet to be confirmed.
Click here for the event website: http://www.buxtonwelldressing.co.uk/
Click here for welldressing at other locations: http://welldressing.com/calendar.php
Thanks to Ross Parish of http://traditionalcustomsandceremonies.wordpress.com for suggesting this event!
Photo by JH P
View larger map