| | |
| --- | --- |
| Where: | Calverton, Nottinghamshire at the Admiral Rodney on Main Street, other Calverton pubs and more in nearby settlements |
| When: | Thursday, Friday and Saturday near Plough Monday |
| Time: | From 7pm (see schedule on event website for full programme) |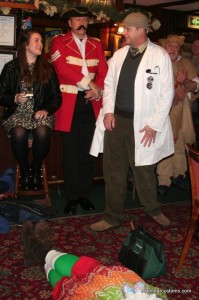 Plough Monday was the day upon which agricultural workers returned to the land and they marked the occasion by disguising themselves and touring their local district dancing and performing plays for largesse (see Plough Monday article). The areas in which the celebrations were most common were in the east midlands and East Anglia and it is in this area today that most of the revivals are carried out. CRAPPS (aka Calverton Real Ale and Plough Play Society) visit their local pubs each January in a charity fundraising pub crawl around Calverton and nearby villages. They perform their mummers play three evenings in a row, on a weekend early in the month near to Plough Monday and their play has been a popular feature for over thirty years. It's a version of the Recruiting Sergeant folk play and features characters like Tom Fool, the Dame and Beelzebub with dancing and revival of the Dame by the Doctor.
Helpful Hints
Each performance is brief as the company tour several venues every day.
In 2018 the group will perform on the evenings of Thursday 11th  to Saturday 13th January. Check their website near the time for a complete schedule.
Click here for the event website: http://ploughboys.wordpress.com/
and for more info click here :http://traditionalcustomsandceremonies.wordpress.com/2012/01/31/customs-revived-nottinghamshire-plough-monday-plays/
View larger map