| | |
| --- | --- |
| Where: | Camborne, Cornwall - town centre with Dances & Parade starting at Basset Road |
| When: | Saturday in late April (usually last Saturday in month) |
| Time: | All day from 10am with Bal Maidens dance at 10.15, Trevithick's Dance at 2.30 and Steam Parade at 3.15 |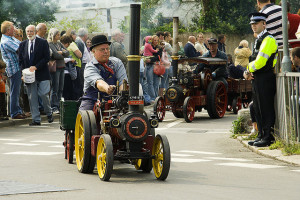 Local inventor Richard Trevithick is one of the unsung heroes of the industrial revolution and every April the residents of Camborne celebrate his life and work in a festival which highlights his many achievements. He was one of the pioneers of the use of steam power in industry, for removing water from the tin mines and for propelling vehicles amogst many other ideas – his Puffing Devil was the first working steam powered road vehicle. There are two special dances during the day, the first of which is performed by around 200 local children in the costume of Bal Maidens and Miners – Bal Maidens operated some of the machinery at the head of the mines during Trevithick's time – and the second of which is the turn of the adults in Trevithick's Dance dressed in the Cornish colours of yellow and black, moving to depict the workings of the steam engine. The dances are led by the Camborne Town Band. One of the highlights of the day is the Steam Parade of vehicles which process around town to the Carn Brea centre where the Mayor takes a salute beside the Trevithick statue. In addition to the dances and vehicles there are stalls, bands, musicians, exhibitions  and a fairground.
Helpful Hints
All are welcome to this free festival. There are road closures on the day so check the event website for details of parking on the edge of town.
In 2017 it will be on Saturday 29th April.
For the comprehensive event website and contact details click here : http://www.trevithick-day.org.uk
Photo by Skinnyde.
View larger map