| | |
| --- | --- |
| Where: | Formerly Canterbury, Kent at the Bell Harry Tower of the Cathedral |
| When: | Formerly Daily |
| Time: | Formerly Before Morning services and at 8.55pm |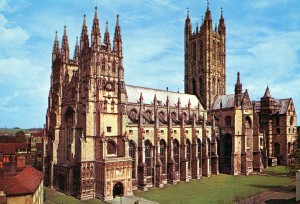 The Bell Harry Tower at Canterbury was completed in 1498 and was named after Prior Henry of Eastry who donated the first bell for it. The bell is now mechanised and it rings before the morning services and used to ring for the night-time curfew.   Curfews were commonly rung throughout the country to remind people to cover up their fires and get to bed – a few places still retain the custom and Canterbury was one of these select few until recently.
Helpful Hints
When we visited in 2016 the bell did not ring – staff at Porters Lodge have noticed its absence for some time though were unaware of the reason so I'm making inquiries…though having rung the Cathedral to check in early 2017, it seems that the practice has ceased.
View larger map