| | |
| --- | --- |
| Where: | Canterbury, Kent starting at Westgate Hall and ending at the Cathedral |
| When: | Saturday nearest 6th |
| Time: | 12 noon start, Cathedral by 1pm approx |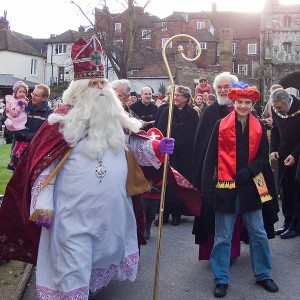 St Nicholas' feast day is 6th December, and he is the patron saint of sailors and brewers amongst other professions but is best known for his role as patron saint of children and as a generous giver of presents. At Canterbury on the Saturday in December nearest the feast day, the Saint in his red robes with a big white beard (yes, Santa Claus is a closely related later development!) leads a charity fundraising parade around the city accompanied by a host of musicians and children in seasonal and topical fancy dress. The procession is welcomed into the Christ Church Gate by the Archbishop and civic dignitaries. It's organised by the Cathedral as part of the advent festivities in the town and is followed by a short carol service in the Nave, and hot refreshments to warm everyone up!
Helpful Hints
All are welcome and the money raised is used for charities which benefit children and young people .
In 2017 it was on Saturday December 9th – 2018 date is yet to be announced.
Click here for the Cathedral website: http://www.canterbury-cathedral.org
and here for the Festival: http://www.stnicholasfestival.org.uk
Photo by Chris Beckett.
View larger map