| | |
| --- | --- |
| Where: | Carrbridge, Inverness-shire, at the Village Hall on Main Street |
| When: | Saturday near October 10th |
| Time: | Market from 9.30 am, competition 10.30 am-4 pm, ceilidh 8.30pm |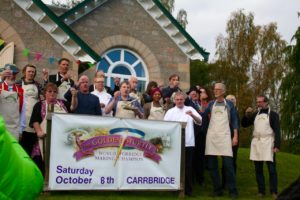 Everyone knows that Scotland is the home of porridge, so it should come as no surprise that the World Championship competition in the field of porridge-making is held in the Highlands. It's a relatively modern event founded over twenty years ago and has evolved into an annual competition with entrants from all over the world. The original aim of the event was to raise the profile of Carrbridge and of porridge as a healthy food. Only the simplest ingredients are allowed in the championship itself – just oats, salt and water, but there are also further classes for speciality dishes in which extra ingredients may be included. The judges' decision is final and they score each example on taste,texture and colour. A pipe band parade from picturesque Old Carr Bridge to the Village Hall starts off the festivities at 10.15. The competition takes place during whole day with several heats and a "cook off" to finish; in 2016 there were 18 competitors. In between the heats, spectators have the chance to sample the competitors' recipes, which was an unexpected bonus. A ceilidh and supper follow during the evening.
Helpful Hints
A spurtle is a porridge stirring stick, usually wooden.
Entry is free of charge.It's held on a Saturday near World Porridge Day (which is October 10th every year). In 2018 the competition will be on Saturday October 6th.
Click here for the event website: http://www.goldenspurtle.com/
View larger map