| | |
| --- | --- |
| Where: | Kingston Maurward College, Dorset |
| When: | Sunday before May Day Bank Holiday |
| Time: | 10 am until 4pm |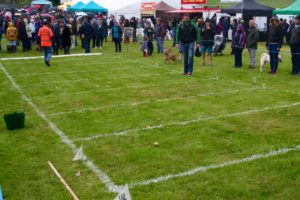 The Dorset Knob is a hard biscuit which makes a fine missile for competitive hurling! Three knobs are thrown underarm per entry and the furthest is measured at its final resting place; unlimited entries are available per contestant and there are no age restrictions.The relatively new event is held on the Sunday of the May Day Bank Holiday weekend and in addition to the contest for throwing you can also eat, paint, race with, and guess the weight of Dorset Knobs amongst a host of other knob-themed activities. Other local foods are on offer at the associated Food Festival.
Helpful Hints
The only similar comestible I've come across is from Wymondham and is unsurprisingly called the Norfolk Knob but as far as I know it isn't used for any competitions.
In 2017 it was £5 entry fee with free parking available on site – new venue from 2017 at Kingston Maurward College. All ages are  welcome and entries cost £1 each (for 3 throws). A host of other knobbery is also on offer such as Pin the Knob on the Giant, Knob Putting and Spot the Knob.
In 2018 it will be on Sunday 6th May.
Click here for the event website: http://www.dorsetknobthrowing.com/
View larger map