| | |
| --- | --- |
| Where: | Chester, Cheshire - city centre starting at Town Hall Square, with finale at the Town Hall |
| When: | Weekend in late June |
| Time: | 2pm |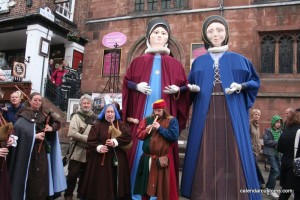 There have been spectacular parades in Chester for hundreds of years, featuring fabulous creatures and giants. Originally based around the famous Mystery Plays and organised by the City Guilds, the modern event celebrates this heritage by putting on show an ever-growing cast of giants, fantastic beasts, musicians and dancers in a colourful display around the city streets. Expect a giant family (always an integral part of the festivities), dragons, unicorns, horses, angels, a stag, an elephant, green men and more with a real medieval feel and sound.
Helpful Hints
The parade takes place on both days of the weekend and is part of the Chestival celebrating the best of life in Chester. A smaller scale Winter Watch takes place in November. Leaflets are available at the Tourist Information Centre in Town Hall Square (where the Parade begins) giving full details of the participants in order of appearance.
In 2017 it was held on Saturday 24th and Sunday 25th June 2018 dates are yet to be confirmed but will probably be 23rd and 24th.
Click here for the festival website:  http://www.midsummerwatch.co.uk/
View larger map