| | |
| --- | --- |
| Where: | Countrywide in cities with a sizeable Chinese population |
| When: | Sunday nearest Chinese New Year(late January to late February) |
| Time: | All day (Newcastle event 11am-4pm) |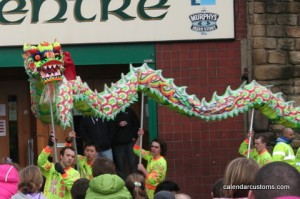 Many major cities in the UK celebrate Chinese New Year, including Newcastle upon Tyne which is my nearest venue. Expect firecrackers, Lion and Dragon dances, music,parades, lanterns and seasonal foods . The dragons bring prosperity for the coming year; the way they move echoes the movement of  the river spirit as it rises , falls and undulates and the origins of the dance lie in a fertility rite for the harvest. Noodles symbolise long life, so don't cut them; spring rolls represent wealth and oranges and lettuce are for luck. Another popular speciality is the tea-egg, a hard-boiled egg which has the shell cracked all over before it is soaked in tea which dyes the egg giving it a mottled appearance. In Newcastle the celebrations are usually on the nearest Sunday from 11 am and the crowds are huge. Wear red for luck and to ward off evil spirits!
Helpful Hints
Popular with families as it's at the weekend and there's plenty to see! Get there early if you want a decent view.
In 2018 Chinese New Year falls on February 16th and it will be the Year of the Dog (2017 is Year of the Rooster). The date of the Newcastle celebrations is Sunday 18th February.
For more info click here : http://www.theholidayspot.com/chinese_new_year/
View larger map