| | |
| --- | --- |
| Where: | Whitley Bay, North Tyneside by the Boardwalk Cafe & Various locations around the UK |
| When: | Whitley Bay 26th December & 1st January - other events 25th & 26th December, 1st January |
| Time: | Whitley Bay 10.45 for 11am- others various times |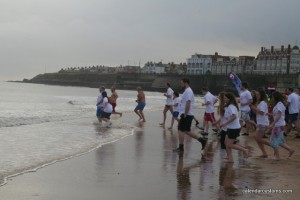 A number of locations around the UK host midwinter swimming events – not all of them are even on the coast – and they seem to be growing in popularity through the twenty-first century. On Christmas Day there are events at Brighton, Bournemouth, Exmouth, Polkerris and Porthcawl; on Boxing Day try Liverpool's Albert Dock, Aberdeen's Nippy Dipper, Whitley Bay, Tenby, Redcar or Seaburn ; at New Year Saundersfoot, Broughty Ferry, Queensferry's Loony Dook,Whitley Bay (again!) or Clevedon. Some events have a competitive element but most are just a group of brave enthusiasts proving their hardiness!
Helpful Hints
I've used Whitley Bay as an example as it's near where I live.
There will be a similar event somewhere near you! Because of the unpredictable nature of British weather, they are very occasionally cancelled for safety reasons (as happened in Brighton in 2012). For a different midwinter swimming event see the article "Peter Pan Cup".
For a full list of festive swimming events click here : http://www.outdoorswimmingsociety.com/home
and for Whitley Bay click here :http://www.panamaswimmingclub.co.uk
View larger map