| | |
| --- | --- |
| Where: | Countrywide |
| When: | 25th December (but the build-up starts much sooner!) |
| Time: | All day |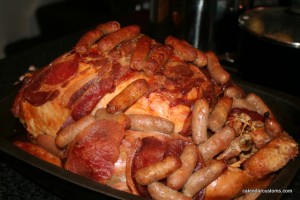 There are a number of dishes associated with the Christmas season. Christmas Dinner is traditionally a roast turkey with cranberry sauce, roast potatoes, vegetables including Brussels Sprouts, gravy and trimmings such as stuffing balls and chipolata sausages followed by Christmas Pudding (a mixture of dried fruits, suet, breadcrumbs, spices, flour & eggs steamed in a cloth bag) with either bread- or rum-sauce and custard. This meal or something very similar must be eaten in thousands of places across the UK on Christmas Day itself and also at many functions in the pre-Christmas party season. Mass turkey consumption is a mid Twentieth Century development – previously the fowl of choice was goose. Other staple Christmas foods are Christmas Cake (an iced fruit cake with similar ingredients to the Pudding but oven baked), Mince Pies which are pastries with a sweet mincemeat filling (mincemeat being a mix of dried fruits and spices now containing no meat whasoever, though it has evolved from earlier meat-based recipes), trifle, roast chestnuts  and chocolate Yule Logs. It used to be traditional for children to receive an orange and some nuts in their Christmas Stocking and they are still popular today. Seasonal drinks include punch, mulled wine and ginger wine. In relatively recent times, foods from other countries have begun to appear in British shops giving us additional delights such as Lebkuchen, Panettone and  Stollen.
Photos by:  James Peek (Christmas Pudding).