| | |
| --- | --- |
| Where: | Clovelly, Devon starting at the Victoria Fountain and ending at the Quay |
| When: | Shrove Tuesday |
| Time: | 5pm onwards |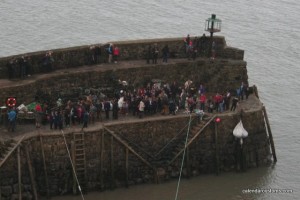 The picturesque village of Clovelly on the North Devon coast is the setting each Shrove Tuesday for a curious custom performed by the local children. It's also known as Driving the Devil into the Sea but is more usually referred to as Lentsherd or Tin Can Night. It involves the children dragging tin cans on strings and anything else very noisy down the steep cobbled street to the Quay, making as loud a din as possible to frighten away the evil spirits and Drive the Devil into the Sea before the holy season of Lent begins the following day. The older children rush off from the top of the hill but little ones are encouraged to take their time as the slope is precipitous!
Helpful Hints
It's not a widely publicised event and is informal. Lentsherd is pronounced "Lansherd". Be prepared for steep cobbles and a stiff climb back up! Park by the Visitor Centre as you can't take cars down into the village streets- and allow time to walk into the village.
In 2018 it will be on Tuesday 13th February.
For the village website click here (check events listings for full details) : http://www.clovelly.co.uk
View larger map