| | |
| --- | --- |
| Where: | Clovelly, Devon at the Harbour |
| When: | 1st Sunday in September |
| Time: | 10am-5pm |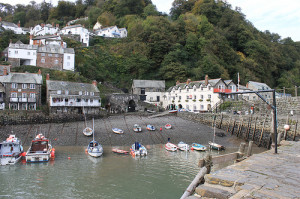 The north coast of Devon is famed for its lobsters and crabs ; each September a Feast is held at Clovelly to celebrate the crustaceans and their local maritime heritage. Funds raised are used to support the National Lobster Hatchery down the coast at Padstow and one of the features of the festival is the release of live baby lobsters into the sea. There is a programme of folk music, cookery demonstrations and competitions, beer tasting, stalls of arts & crafts, childrens activitities, street theatre & magic….something for all ages to enjoy. The local pub the Red Lion puts on a special menu featuring local seafood accompanied by bubbly.
Helpful Hints
Clovelly is a unique traffic free village – visitors must park in the capacious carpark at the top of the hill by the Visitor Centre. The admision fee of £6.50 includes two museums, the parking fee and admission to Clovelly Court Gardens – normal admission fees apply during the festival. A Landrover taxi service into the village is available for a small extra fee (in the old days, donkeys carried both visitors and fish up the hill but today they just give rides to children in the summer!). The revenue raised is used to maintain the village and keep it beautiful.
In 2018 the Feast is on Sunday September 2nd.
Click here for the village website which also has info on the Feast : http://www.clovelly.co.uk/village
and here for the Lobster Hatchery: http://www.nationallobsterhatchery.co.uk
Photo by Bladeflyer.
View larger map