| | |
| --- | --- |
| Where: | Clun, Shropshire at the Bridge and the Castle |
| When: | May Day Bank Holiday Monday |
| Time: | From 11.30 am with Battle at Noon and Fair until 5pm |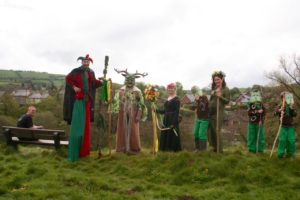 Inspired by the mysterious foliate heads carved in many churches, the Green Man is a symbol of the spirit of nature. At Clun in Shropshire he has his own traditional springtime festival, the highlight of which is a conflict between the Man himself and the Ice Queen, known as the Battle of the Bridge; if the Green Man doesn't win, there will be no summer….As well as the Battle, expect morris dancers, mummers,drumming, musicians, a host of other performance artists, duck racing, refreshments and plenty of stalls at the traditional fair at the Castle. The main day of the festival is the Monday but there are events all weekend including early skirmishes between the Man & Queen (see website link for schedule). In 2017 there were unicorns… (for photographic evidence see below).
Helpful Hints
Admission to the Fair is £5 , everything else is free of charge.
In 2018 it will be on Monday May 7th.
Click here for the event website: http://www.clungreenman.org.uk
View larger map