| | |
| --- | --- |
| Where: | Colchester, Essex at the Moot Hall |
| When: | Last Friday in October |
| Time: | 7pm |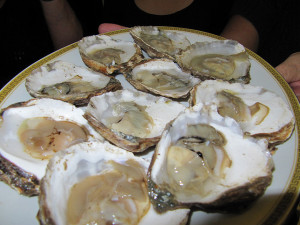 The Mayor and dignitaries host the annual Oyster Feast at Colchester each October in a civic custom dating back several hundred years. It's a lavish affair and worthy guests, sometimes even royalty, visit from all over the country.Attendance is by invitation only and as it's a popular event a public lottery is held each year so that locals get a chance to participate alongside the invited guests. The oyster fishery at Colchester dates back to Roman times and a charter was granted to the borough by Richard I in 1189.
Helpful Hints
Don't expect to get in unless you've been invited! I've included the event on the site because it's well known and thought it would be useful for potential visitors to know that you must have  a ticket to attend.
In 2018 it will be on Friday October 26th.
Click here for the Council and Mayor's Office : http://www.colchester.gov.uk
Photo by Roman Circus.
View larger map