| | |
| --- | --- |
| Where: | Coldstream, Borders starting at Lees Mill then to Flodden Battlefield at Branxton and back to Tweed Green in Coldstream |
| When: | Thursday of 1st full week in August |
| Time: | Start at 10am, Flodden Cross at Noon, back in town 5pm for Abbey Ceremony at 5.45 |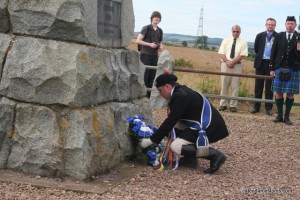 Coldstream Civic Week is a traditional borders celebration dating back to the 1950s. As well as sports, parades and fireworks, the festival is a commemorative event and the highlight of the week is the Thursday Rideout to Flodden Battlefield, about 4 miles away. The battle was fought between the forces of England's King Henry VIII and Scotland's James IV; the Scots king was slain in the battle. The cavalcade of around 300 equestrians is led by the Coldstreamer with his flag; wreaths are laid at the cross and there is a short service in memory of the fallen accompanied by a piper. Following this, an oration is delivered on Flodden Hill nearby and a turf is cut which returns with the cavalcade for the Abbey Ceremony at 5.45.
Helpful Hints
In 2018 it takes place on Thursday 9th August with other events on the days preceding and succeeding it.
Parking opportunities at Flodden Battlefield are limited so try to arrive in plenty of time. There is only a footpath to the Cross so the horses don't go right up to it but are left waiting in the carpark.
Click here for the event website with full details of times, routes etc: http://www.coldstreamcivicweek.com/
Click here to find out more : http://www.returntotheridings.co.uk/coldstream.html
View larger map