| | |
| --- | --- |
| Where: | Countrywide |
| When: | The Monday before Shrove Tuesday |
| Time: | All day |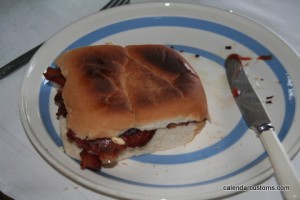 Collop Monday is always the day before Shrove Tuesday and is not widely observed. In a similar frugal way to the consumption of eggs in the form of pancakes (to use them up before the fasting period of Lent), meat was eaten on Collop Monday as collops are chunks of meat. In Cornwall it has a different name : Peasen Monday because pea soup is the dish of the day. We celebrate by eating a bacon sandwich!
Helpful Hints
In 2018 it's on Monday 12th February.